ZGS13-630/12 Preinstalled Substation(American)
Functions And Features 1. Fully insulated, fully sealed, free maintenance, reliable personal safety guarantee; 2. Compact structure, the volume is only 1/3-1/5 of European type with the same capacit
Functions And Features
1. Fully insulated, fully sealed, free maintenance, reliable personal safety guarantee;
2. Compact structure, the volume is only 1/3-1/5 of European type with the same capacity; the height is only 1.5, not blocking sight;
3. It uses sub-box structure to avoid the oil pollution in transformer mailbox;
4. High-voltage side uses full range of double fuse protection, greatly reducing costs;
5. It can be used in loop network and also in terminal, and the cable head is urgently pluggable under 200A load current;
6. The box adopts honeycomb-type double layer composite board, with the functions of thermal insulation and heat dissipation, and the technology is the latest patent developed by the company.
7. Low voltage side can be installed undervoltage controller, when there is abnormal voltage in the system, the low voltage side can be quickly removed;
8. The oil-immersed load break switch or SF6 load break switch on the high-pressure side can be automatically upgraded to lay the foundation for the distribution network automation.
MODEL AND MEANING

Technical Parameter
| | | | |
| --- | --- | --- | --- |
| No. | Item | Unit | Design serial NO. |
| 1 | Rated voltage | KV | 10/0.4(HV/LV) |
| 2 | Maximum working voltage | KV | 12(HV) |
| 3 | Rated frequency | Hz | 50 |
| 4 | Rated capacity | KVA | 150-1600 |
| 5 | 1 min P.F.withstand voltage | KV | 35 |
| 6 | Lightning impulse withstand voltage | KV | 75 |
| 7 | Cooling mode | | Oil-immersed self-cooled |
| 8 | HV stand-by fuse breaking current | KA | 50 |
| 9 | Plug in type fuse breaking current | KA | 2.5 |
| 10 | Ambient temperature | °C | -35~+40 |
| 11 | Allowed temperature rise of coil | K | 65 |
| 12 | No-load tap changer | | ±5%or ±2×2.5% |
| 13 | Noise degree | db | 50 |
| 14 | Protection degree | | IP43 |
Structure Diagram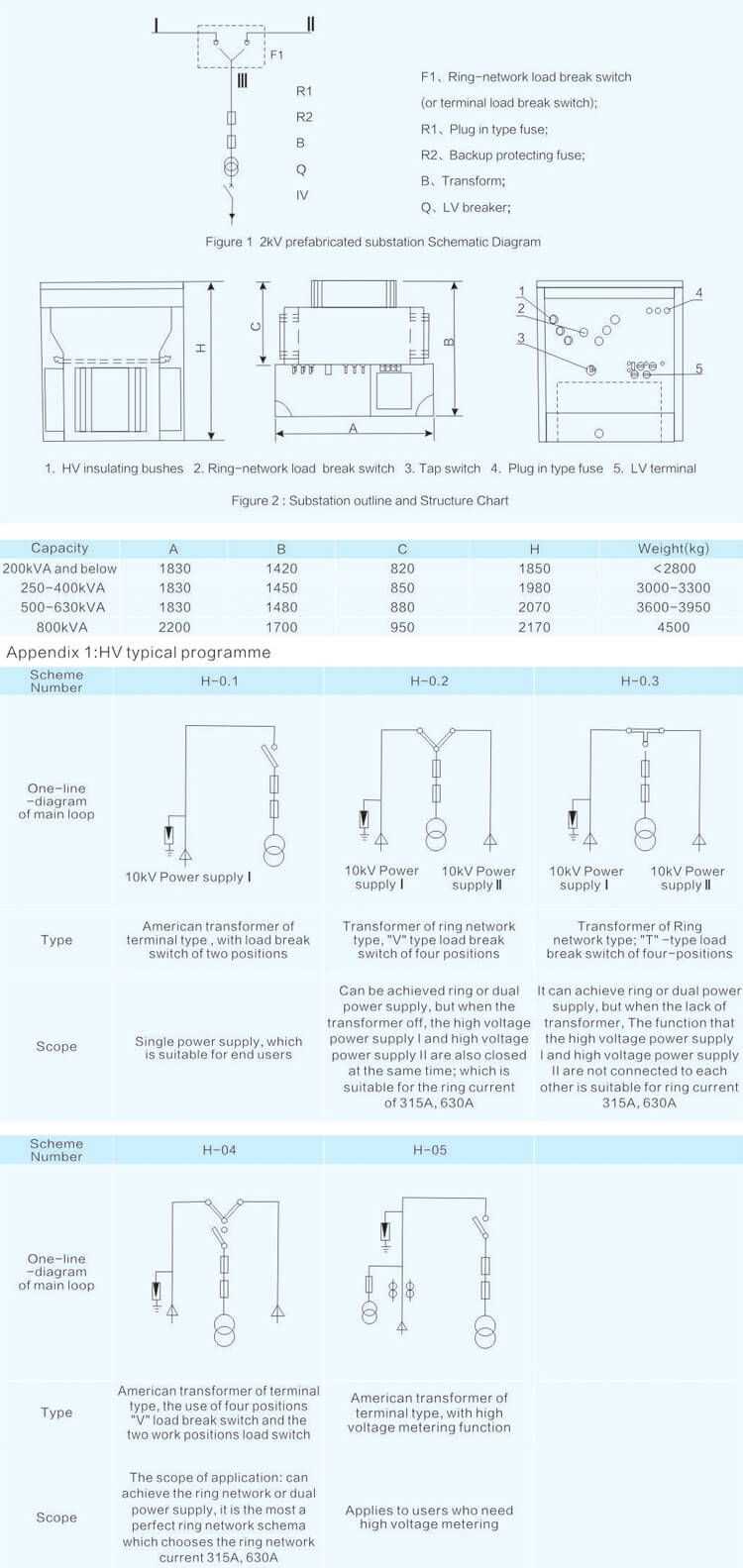 Feedback