Application
The composite insulator line of HAIBIAN includes line insulators comprised of line rod, line post, traction line type and line spacer, station insulators comprised of outdoor solid core, indoor solid core type, post and tension hollow post and tension rod, insulating bushing comprised of oil impregnated paper condenser wall bushing and dry type condenser wall bushing. Moreover, shed booster for station insulation, feeding rod for locomotive and dry type polymer current transformer are also available.
The shed housing polymer for HAIBIAN composite insulator is prepared using specific composition mixing developed by HAIBIAN experts for years, contributing the highest grade of tracking and corrosion resistance in conformance with IEC standard, which shows no apparent degradation after artificial accelerate ageing for 1000h and natural exposure test for 15 years.
The HAIBIAN insulator are manufactured with unique one-piece injection molding technique, excluding possibility of interface feakdown. Amain frouble which may destroy the normal operation of insulators. The unique gluing connection of line rod insulator with metal getting keeps FRP rod intact, providing the highest reliability of insulator in respect of its mechanical performance with practically no degradation even in environment of high temperature or severe cold.
The composite insulator, characteristic of small size, light weight, high mechanical strength, shatter-free, easy handling, well shock-resistance, pollution-resistance and minor maintenance, grows fast as a new generation of insulator.
Insulator with specific parameters other than those listed hereafter is required by customer, it can be supplied by technical agreement. If any insulator of other application is needed, HAIBIAN is willing to proceed cooperative development to meet utmost the customer demand.
Normal service conditions
a) Ambient air temperature within the range of -40℃ to +50℃.
b) Altitude not exceeding 1500m.
c) Frequency of the A.C. power supply not less than 48Hz and not exceeding 62Hz.
d) Maximum wind speed not exceeding 35m/s.
e) Earthquake intensity not exceeding 8 degrees.
Characteristics:
Small volume and light weight, easy to transport and install.
The superior in performance and high intensity mechanical enhance reliability of power line.
Extraordinary hydrophobic and resistance to contamination.
Long-duration resistance aging and leakage tracking.
Configuration and Anatomy Design of Composite Insulator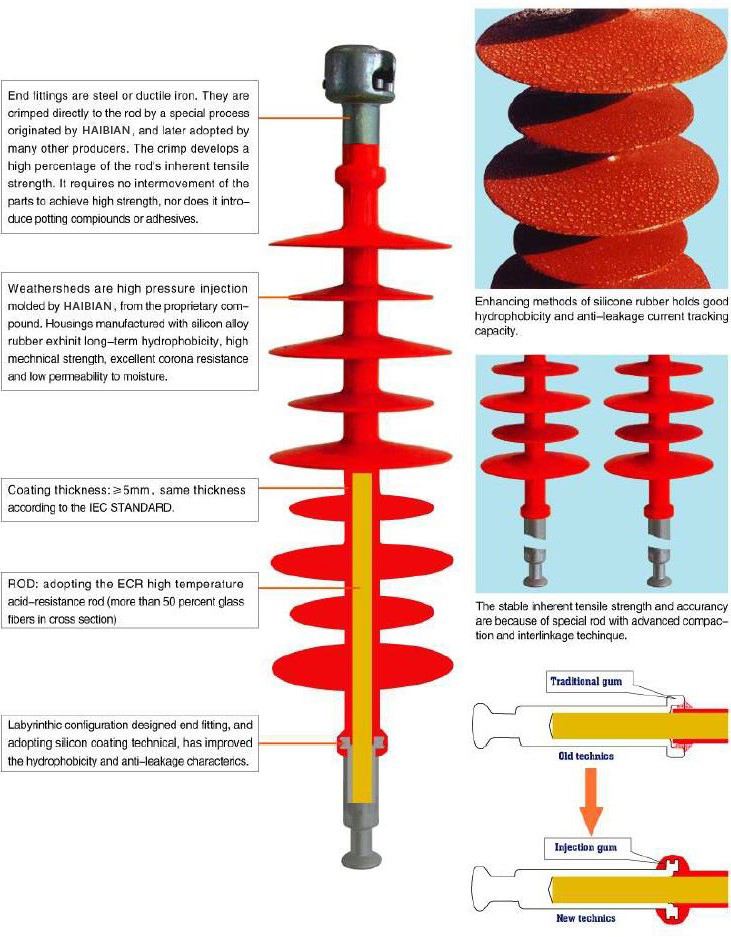 Model and meaning

Suspension composite insulator
This product is special for badly polluted areas, high mechanical tension load, long span and compact power line. And have features of light weight, small volume, unbreakable, anti-bend, high strength for anti-twist and strong explosion protection.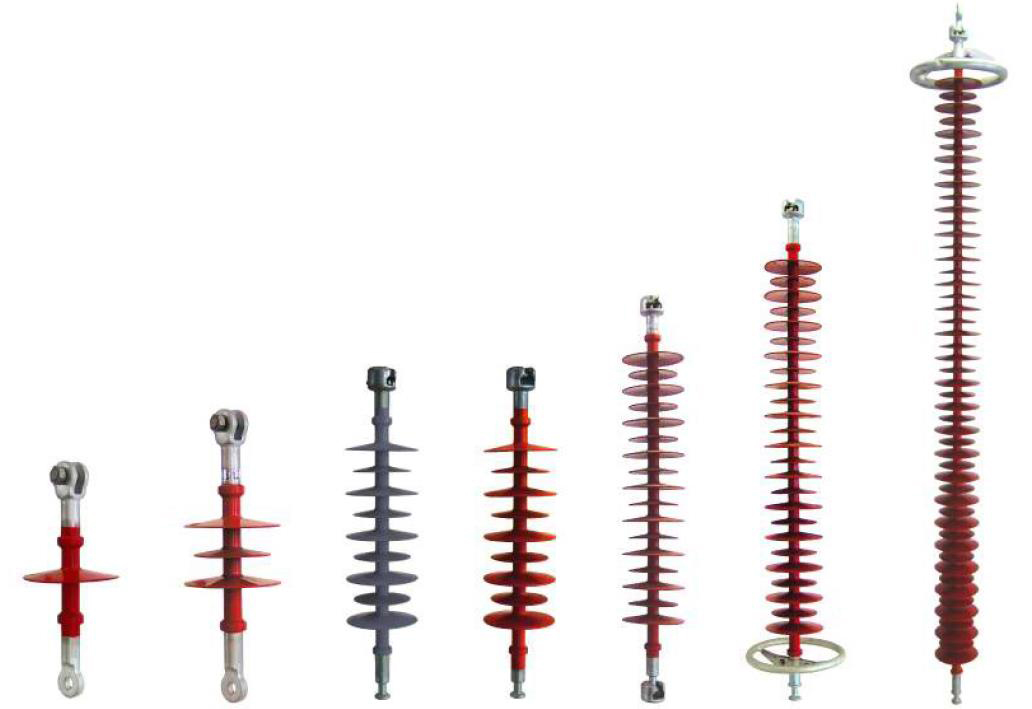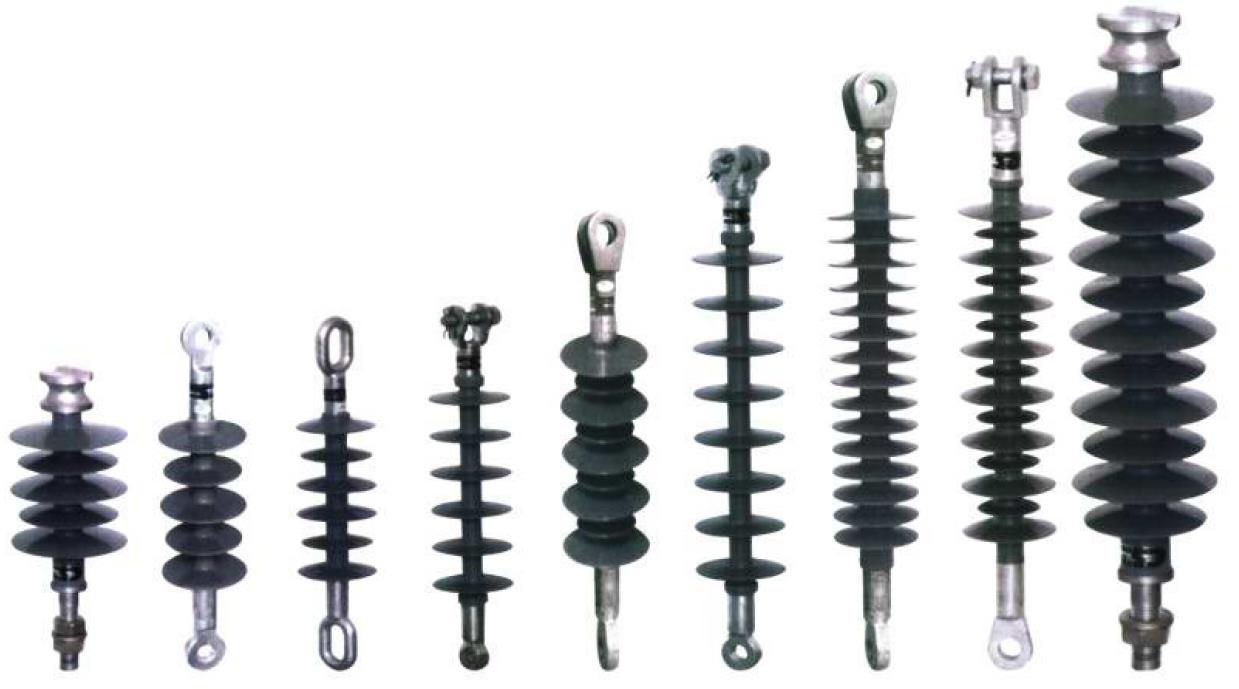 | | | | | | | | |
| --- | --- | --- | --- | --- | --- | --- | --- |
| Product Model | Rated voltage(kV) | Rated mechanical load(KN) | Structure height H.(mm) | Insulating distance Li.(mm) | Min Creepage distance(mm) | Lightning impulse withstand voltage(peak)(kV) | P.F wet withstand voltage(virtual value) |
| FXBW4-12/70 | 12 | 70 | 370 | 200 | 480 | 75 | 42 |
| FXBW4-12/100 | 12 | 100 | 405 | 200 | 480 | 75 | 42 |
| FXBW4-24/70 | 24 | 70 | 550 | 370 | 850 | 185 | 75 |
| FXBW4-24/100 | 24 | 100 | 590 | 370 | 850 | 185 | 75 |
| FXBW4-35/70 | 35 | 70 | 650 | 450 | 1225 | 230 | 95 |
| FXBW4-35/100 | 35 | 100 | 690 | 450 | 1225 | 230 | 95 |
| FPBW4-66/70 | 66 | 70 | 900 | 710 | 1980 | 410 | 185 |
| FXBW4-66/100 | 66 | 100 | 940 | 710 | 1980 | 410 | 185 |
| FPBW4-110/70 | 110 | 70 | 1240 | 1000 | 3315 | 550 | 230 |
| FPBW4-110/100 | 110 | 100 | 1240 | 1000 | 3315 | 550 | 230 |
| FPBW4-220/100 | 220 | 100 | 2240 | 1900 | 6300 | 1000 | 395 |
| FPBW4-220/160 | 220 | 160 | 2240 | 1900 | 6300 | 1000 | 395 |
| FPBW4-330/100 | 330 | 100 | 2950 | 2600 | 9075 | 1425 | 570 |
| FPBW4-330/160 | 330 | 160 | 2950 | 2600 | 9075 | 1425 | 570 |
| FXBW4-500/160 | 500 | 160 | 4080 | 3730 | 12750 | 2250 | 740 |
Feedback