XL(F)-21 Power Distribution Cabinet
PRODUCT DESCRIPTION XL-21 floor-type power distribution cabinet below 630A applies to three-phase three-wire, three-phase four-wire, three-phase five-wire system with AC voltage below 500V in power p
PRODUCT DESCRIPTION
XL-21 floor-type power distribution cabinet below 630A applies to three-phase three-wire, three-phase four-wire, three-phase five-wire system with AC voltage below 500V in power plants and industrial and mining enterprises, for power lighting distribution. XL-21 power distribution cabinet system indoor device is installed against wall, repaired in front of the screen.
Model and Meaning

Use Environmental Conditions
Ambient temperature:-50℃~+40℃, and the average temperature within 24H does not exceed+36℃.
Altitude: no higher than 2000m.
Relative humidity: no more than 50% in ambient air temperature of +40℃.
There can be higher relative humidity at lower temperatures (for example:90% at +20℃), taking into account the temperature changes, moderate condensation is allowed, during installation, the inclination of the equipment with the vertical surface shall not exceed 5°, and the equipment shall be installed in places without severe vibration, impact or corrosion.
Product Lineup
The installation of floor-standing power distribution cabinet inside shall be wall-mounted with the power distribution unit single-face opening forwardly. Its basic structure is made by bending steel plate and welding angle iron. The front right can be installed with knife switch operation handle to cut of the power and connect to the operation. The operation button, indicator light and display instrument can be installed on the door. The internal devices shall be accessible for repair and maintenance. The cabinet is equipped with air circuit breakers and fuses as a short circuit protection, and further equipped with contactors and thermal relays. Door and shell are welded with ground screws to ensure solid connection between the shell and ground.
The Main Technical Parameters
| | | | |
| --- | --- | --- | --- |
| NO. | Name | Unit | Data |
| 1 | Main circuit rated voltage | V | AC380 |
| 2 | Auxiliary circuit rated voltage | V | AC220,AC380 |
| 3 | Rate frequency | Hz | 50 |
| 4 | Rated insulation voltage | V | 660 |
| 5 | Rated current | A | ≤800A |
Main Circuit Plan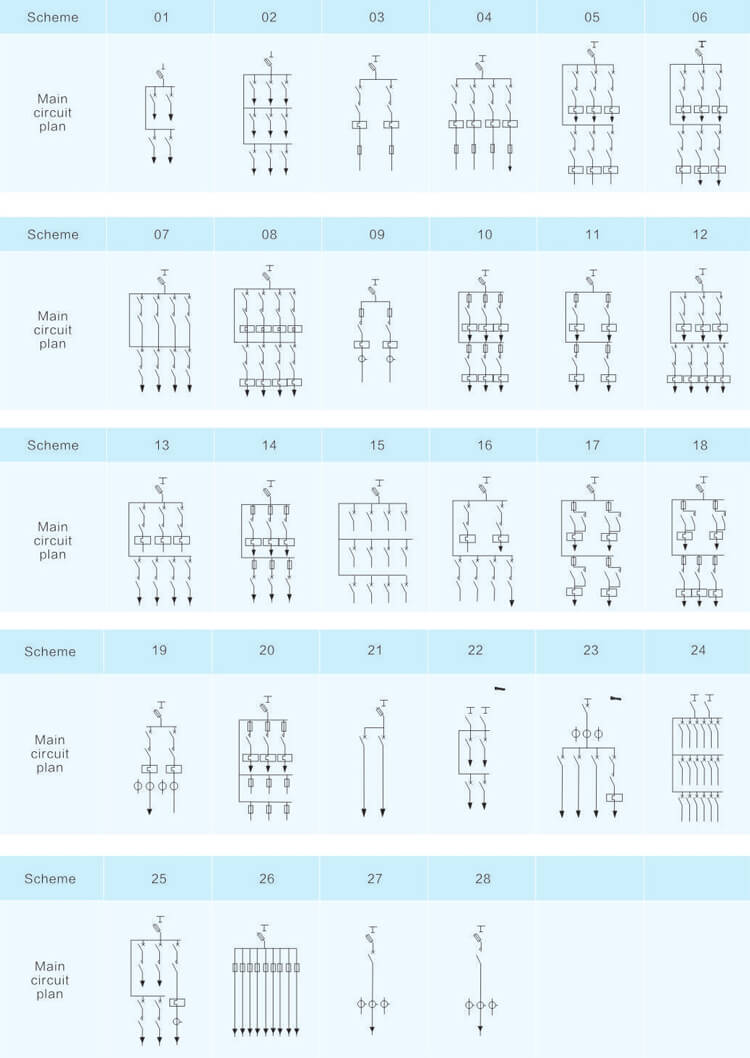 Cabinet Dimensions And Installation Dimensions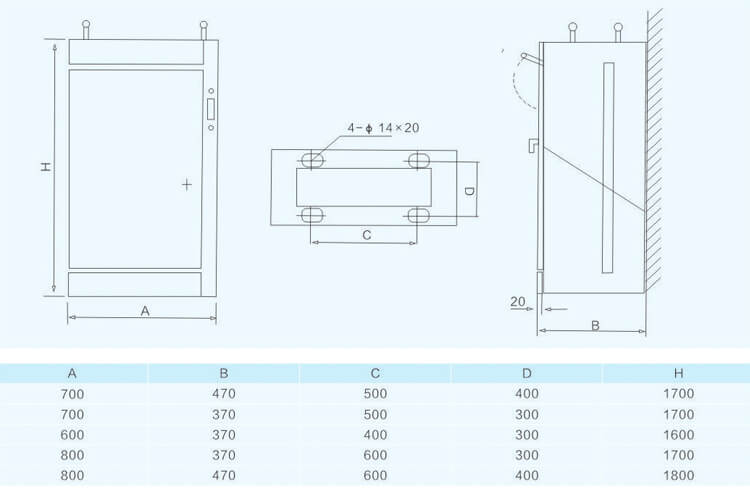 Feedback